For you bargain lovers, and those looking for a long sleek bench to add some modern style:
This is Room and Boards Ravella bench, for the not-so-lovely price of $1599. It comes in a range of colors from black to camel to plum.
Here is an example of this bench in a room. This type of bench can be used as extra seating in a room without having the visual break of a sofa back. Imagine this as the view from a dining room or kitchen area.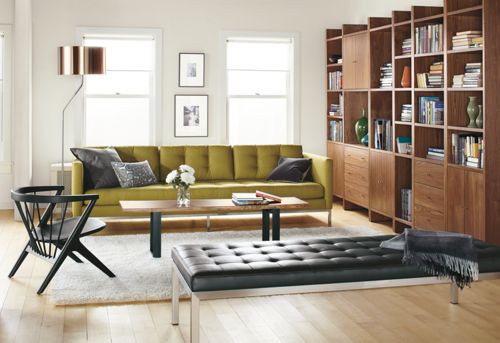 Ahh, but here is a comparable bench at a price that won't make you wince, although it is only available in black. But for
$110
you can live with black and you won't feel bad if you get tired of it someday.
This version is from Penney's.
Find it at Penney's for $110
Here is another use for these types of benches. This is a more traditional version used as not-so-typical seating around a dining room table.
While looking for these images, I was surprised to see Room and Board market their furniture in this way:
We don't sell sets. Our tables and chairs are designed to mix and match, creating your ideal dining room.
Well, glory be. The times they are a-changing.